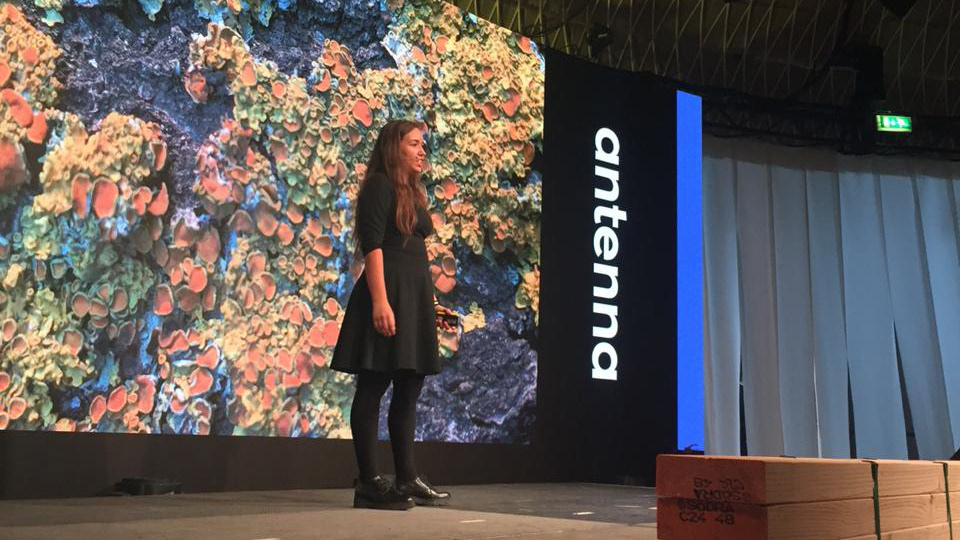 ABOUT JULIA SCHWARZ
Julia Schwarz is a designer focused on 

design research

and the

experience through design. 

With her work she influences and

shapes perspectives, 

suggest alternative

potential futures

. Critical design leads her direction to be
social and system driven. 
Julia is highly interested in the
intersection of design and science
and to use design as a
research tool.
She creates experience and interactions related to different social behavior and environments and
 deals with

concept design, research, storytelling and film, UX, branding

and art direction. 

As a person Julia is also interested in triathlon sports, experimental cooking and material explorations. 
Julia gained already 

experience through work and studies

 in the Netherlands, Norway, Germany, Italy and Austria.


She made it among the TOP FUTURE 100: 2019  by JWT -  Top 10 for food & drink, new ingredients with Unseen Edible. 
And she is listed as one of the most influential Designer for 2019 by
Icon Design 100. 


Unseen Edible is selected as one of the 
Best Practices
in Hanni Rützlers FOODREPORT 2020, Zukunftsinstitut 
___

2018 
Graduated with UNSEEN EDIBLE at University of applied Arts Vienna 
2019

Based in Vienna, Austria - working on upcoming events and projects.
 Open to new projects! Let's get in touch! 
UPCOMING:
8. Mai 2019: Food in the City at Permakultur Austria
PUBLICATIONS -
Read & Listen here:
Stein Schwarz GmbH 

Stone Processing
Vienna/Burgenland, Austria | since 2012 - 

ONGOING




Product Design Development and Art Direction, Design Consultancy
J

uly - August 2011, 2009


Graphic designer


www.stein-schwarz.at
Fabrica, Benetton 

Design Research Centre
Treviso, Italy | July 2016


Interaction design

 scholarship
www.fabrica.com
Strassacker GmbH & Co. KG 

Art Foundry
Süßen, Germany | August-October 2013


Industrial design

intern
www.strassacker.com
Ogilvy & Mather Vienna 

Advertisement Agency
Vienna, Austria | July 2010


Graphic design

intern
www.ogilvy.com
DESIGN EDUCATION
2012- 2018 Mag. des. ind. (MA) 


University Of Applied Arts Vienna


2016-2018:

Design Investigations

 -

Studio Anab Jain

(Superflux) 
2012-2016:

Industrial Design

-

Studio Fiona Raby

 (Dunne&Raby) 
2015 - 2016


Arkitektur og Designhogskole Oslo (AHO)




Tangible Interaction Design
2007 - 2012
Higher College for

Product Management & Presentation

 Oberwart (Austria)
Edible Futures, Canada 2019
Rado Starprize Austria 2019, Unexpected Expressive 2019
Dutch Embassy of Food (DIFD), Edible Invisible - 2018
Dutch Design Week, het Veem & Antenna Expo - 2018
Vienna Design Week - 2018
Vienna Design Biennale - Design for Agency
 2017
AHO Works Exhibition, Oslo 2015/2016
Elvelangs Lightfestival Oslo 2015 
Salon Jardin Vienna, Vienna 2015
The Essence, Vienna 2013, 2014, 2015, 2018
Shanghai Design Biennale - Urban Change 2014
Chelsea Fringe - exhibition and conference, Vienna 2014
Icon Design: 100 Talenti del 2019 nel Mondo del Progetto ( Top 10 of Food Design) 
Top Future 100: 2019, by JWT intelligence company ( Top 10 of Food Design) 
Antenna Conference - World's Best Design Graduates, by Design Indaba & Dutch Design Week, 2018
Winner Urban Food Design Challenge, by Vienna Business Agency & Vienna Design Week 2018
ARTist grant of the University of Applied Arts 2018
Recognition Award of the Province of Burgenland 2018
Scholarship of Excellence 2013
WORKSHOPS
Eat My Dear -  Film Postproduction
Johannes Mücke - Storyboard sketching & illustration
Marius Watz - Interactive visuals, data visualisation 
Hellicar&Lewis - Ideation/ Experience the moment
Kathrina Dankl - Ethnographical research methods
Justin Pickard - Anthropological research methods
Björn Franke - Conceptual thinking methods