SOON: SIMIÆN - PRODUCTS FOR NOVEL FOOD PERSPECTIVES

VIENNA DESIGN WEEK: 16th to 25th of september 
Design in Gesellschaft - DING DONG exhibition: 1200 Wien Engerthstraße 124
SIMIÆN x Saint Charles - Licking Rocks: 1060 Wien Gumpendorfer Straße 30 
Festivalzentrale - Design everyday ( stone glasses): 1060 Wien Rahlgasse 8
Podcast mit Visionistas: 
I was invited by the Vienna Business Agency for a Podcast by Visionistas
about Unseen Edibles. You can listen here

 
WORKSHOP: HOW TO USE LICHEN IN THE KITCHEN? 
 Finally this 3-DAYS-Workshop could be hold after Covid-19. The workshop was placed in an Austrian countryside. Julia Schwarz cooperated here with an educational institute. The focus was on the intercultural intersection of food and therefore the usage. 


EXHIBITIONS: SERIAL EATER AND PLANT FEVER CID GRAND HORNU, BELGIUM


The Project Unseen Edible Project traveled straight from Canada to Belgium where it is now on display! #
 the SERIAL EATER exhibition will dissect thirty years of experimentation and reflection on the "food object".

Since its development in the 1990s until its current involution, Food design analysis will help offer an understanding of how consumption habits and our awareness of the food system have evolved. What type of consumers are we, how do we assess our impact in the current scenario and what are we going to accept on our plates?

EXHIBITION AND FOOD EXPERIENCE:
Come there by chance! The Museum Rijswijk is located in the area of The Hague.
Edible Futures at IDS Toronto. Drop by and experience how the future of food! 
Lichen as an alternative food - workshops: coming up! 


fixed Workshop date in Austria: 20 - 22 March 2020  St. Marein bei Graz 



We teamed up with Mag. Andrea Mittl and the Institut Kosmus.
If you are interested, drop me a message for further details!  
Unseen Edible -  The Lichen Experience Dinner is now on the A-List!  It is a list for recommended Food & Drinks, Restaurants & Bars.  
Recently
FORMFAKTOR was having an exciting interview with Julia Schwarz. 
FORMFAKTOR is a new Austrian online design magazine. 
Read the entire interview here
Zukunftsinstitut: Hanni Rützlers Food Report 2020. Unseen Edible is mentioned as a best practice! 
Warner Bros. International Television Production - Belgium was producing a TV show "Kan Iedereen Nog Volgen"  featuring technology of the future. This time they had focus on futuristic food  - therefore they showcased Unseen Edible with some film frequencies - They got some  special prepared lichen food samples to try made by us.  Interesting discussion and surprised reactions! 
Interview with Lamono Magazine: Lamono is a Spanish magazine for design, but have now also a focus on future food! 
It was exciting to talk to them.
26 Mai 2019: EAT Festival, Biotopia Bayern, Germany. Unseen Edible on Display in between great projects, talks and workshops. 
Fotos: Biotopia & Verena Hägler
Mai 2019: I was invited to give an Impulse Talk at Permakultur Austria. The event was in the series of food in the city - wild food. 
April 2019: Edible Futures:

Among a lot of  other great work my project Unseen Edible will be seen at the Edible Futures, an exhibition produced and developed by the Dutch Institute of Food and Design. It will start this week in Ottawa, Canada! If you are nearby, don't miss it! 
March 2019:  Icon Design: 100 Talenti del 2019! 

 Overseen by a jury of seven members: Daisy Alexandra Ginsberg, Didier Fiúza Faustino, Jane Withers, Marco Sammicheli, Aric Chen, Anna Puigjaner Barberá and Annalisa Rosso. Such an honor! The magazine for the special issue ICON DESIGN 100 itself appears in seven different covers.
February 2019: The Rado Star Prize Austria

 is giving me the opportunity to showcase lichen as an indicator of time. Together with Stein Schwarz I made the installation for UNEXPECTED EXPRESSIVE. Come by until the end of February! 
Rado Boutique Vienna, 1010 Kärntner Straße 18


Fotocredit: Kollektiv Fischka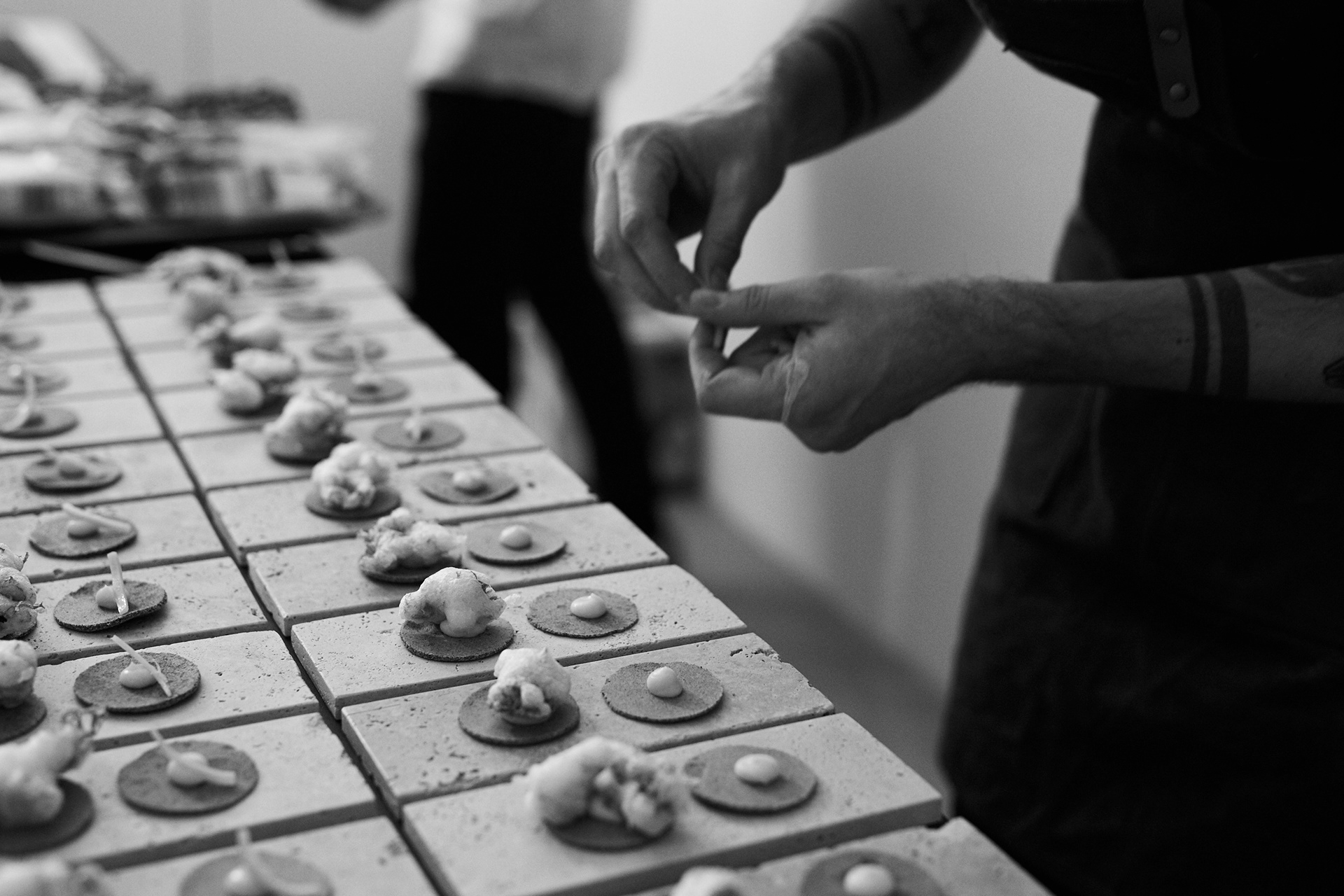 February 2019: Primed Dinner Experience
 I had the great opportunity to create a dinner experience with Primed Group and Bruder Jakob Kocht in Vienna. It was a massive start for 2019 - a lot of experimenting with lichen to get the maximum out of the minimum! We had a panel discussion with Q&A talking about the future of food, lichen and how this all is connected to climate change and the resources of our planet. 
Fotocredit: Sophie Kirchner
January 2019: a Stone Display -  

Project together with Stein Schwarz - we created a table to have the best experience for material comparing and to allow the costumer to choose in the best and most comfortable way. There are different material collections. 
December 2018 Wohn!Design magazine from Germany showcased my project. 2nd pictured made by Wohn!Design
November 2018:  Top future 100
Through my project Unseen Edible, lichens were selected as a new hot ingredient among top future trends 2019. This is a report made by the innovation group JWT - a selection of the top 100, and 10 categories. Unseen Edible made it to the future foods trends.
November 2018: The Essence -

some pictures of the exhibition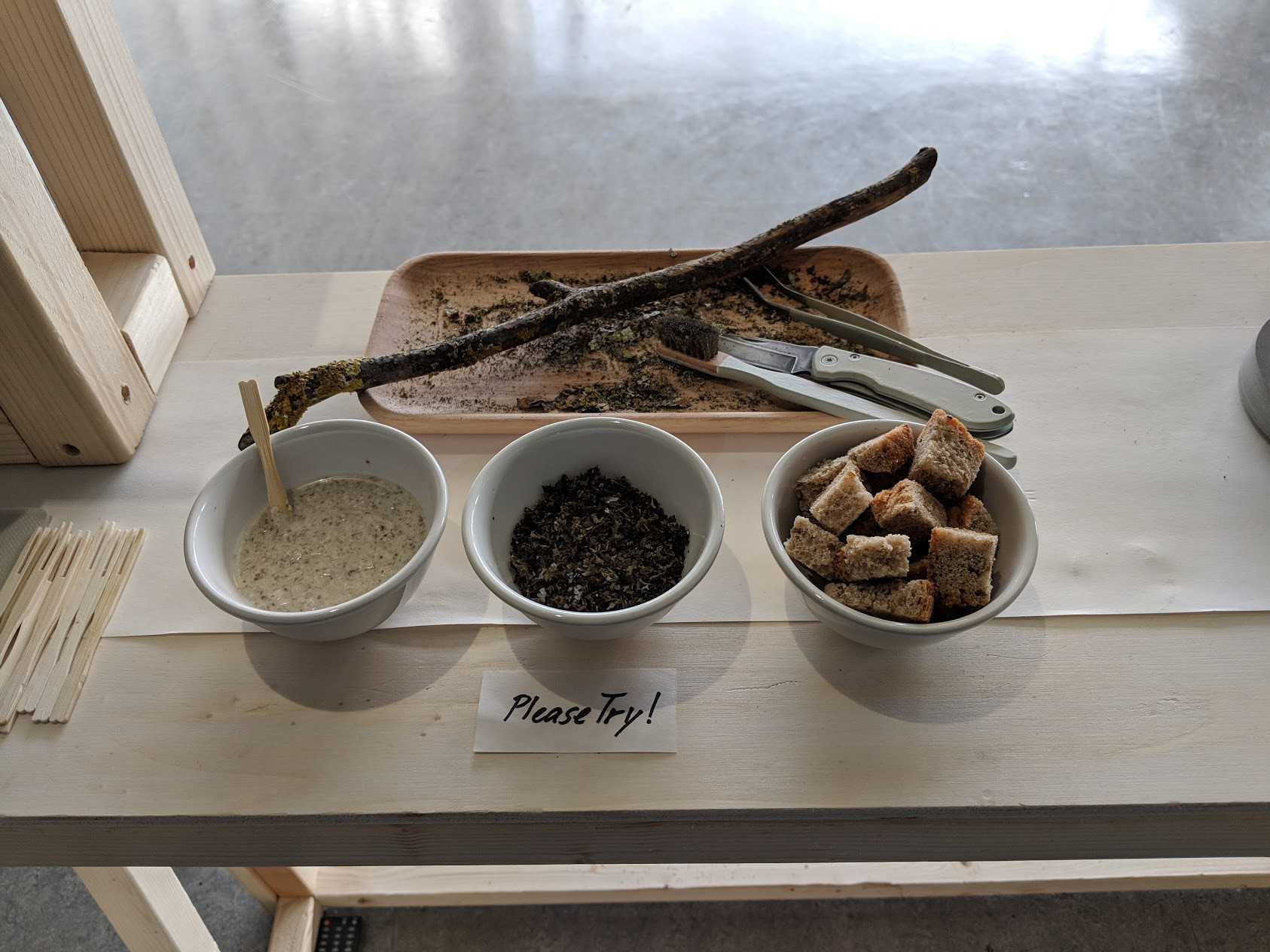 October 2018: EDIBLE INVISIBLE

by the Dutch Institute of Food and Design for Dutch Design Week:
-

curator Marije Vogelzang
I was invited to display Unseen Edible. Some tasting samples and interactions with magnifier glasses by Lisa Hofer. 
October 2018 Dutch Design Week

- Het Veem - some impressions of the exhibition and lichen tasting. Got some materials from Stein Schwarz and displayed for University of applied Arts Vienna
October 2018 : Antenna Conference at Dutch Design Week 
Design Indaba made a selection of 20 design graduates from around the world. I had the honor to be one of them and was invited to talk about my graduation project UNSEEN EDIBLE at the Dutch Design Week.
Fotocredit: Antenna/Design Indaba 
October 2018: Vienna Design Week
Such a great event! As a winner of urban food & design  I did an exhibition i the Vienna Design Week Headquarter - some pictures of the exhibition and workshop. The workshop was hold together with Maureen Kägi and Pauline Bouzek who made a bread oven. The stone processing was made by Stein Schwarz. The bread for the tasting was an outcome of collaborating with a special baker.